The Lewis Clark Valley is an ideal destination for pups and their parents in search of outdoor adventure, scenery, and endless options for fun. Avoid the crowds and plan a fur-friendly getaway with your paw-fect buddy. We've sniffed out the best pet-friendly spots to stay and have a doggone good time.
Staying
With more than two-thirds of the lodging in the Lewis Clark Valley being pet-friendly, you're bound to find a place that both you and Fido will love.
The Hells Canyon Grand in Lewiston is pet friendly, has a HUGE lawn for playing and a dog friendly restaurant patio where you can ask your server for a puppuccino! Their "Pup Package" makes your stay extra paw-tastic and includes a bowl, blanket, and locally made dog biscuits.
The Holiday Inn Clarkston offers pet friendly rooms ($20/pet, per night, as of this post). And, there's even a dog-friendly patio where you can enjoy a bite and a drink overlooking the scenic Snake River. This hotel is adjacent to the Clearwater & Snake River National Recreation Trail where you have miles of riverside pathways to explore and meet other friendly humans and their dogs.
Pet Friendly Hotels in the Lewis Clark Valley
Hells Canyon Grand
Holiday Inn Clarkston
FairBridge Inn & Suites
Best Western Plus The Inn at Hells Canyon
Inn America
RiverTree Inn
Super 8
Hampton Inn
Holiday Inn Express
Dining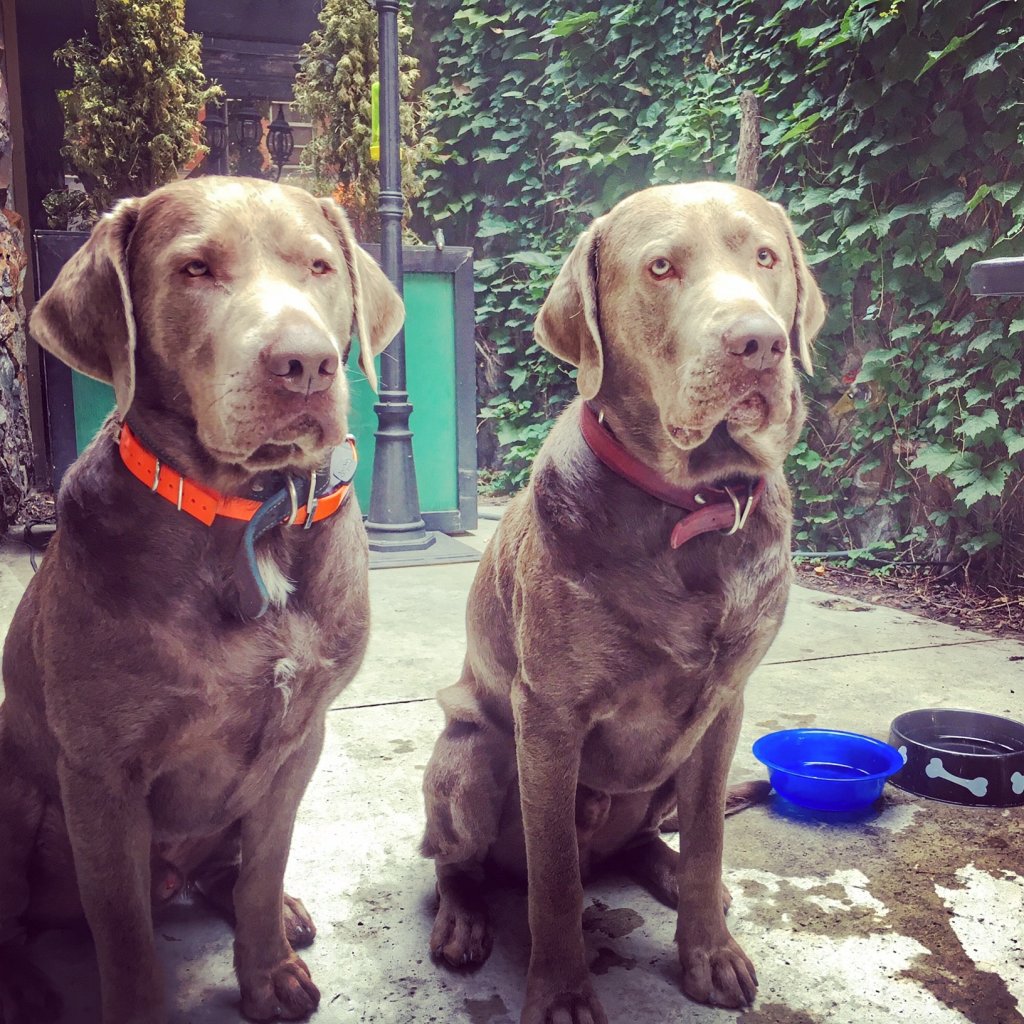 Dining out when traveling with your pet can be one of the most stressful and difficult parts of your trip. You'll find lots of drool-worthy AND dog friendly places to eat in the Lewis Clark Valley. Patios are plentiful around town and most welcome well-behaved pups.
Check out Jollymore's in downtown Lewiston where they welcome your pet with a water bowl and dog treats. You'll enjoy the made-from-scratch soups, salads, and local specialty entrees like cedar plank salmon and Snake River Farms Wagyu sirloin.
Pet Friendly Restaurant & Bar Patios
Mystic Café
Main St Grill
Tomato Bros
Jollymore's: A Dining Experience
Roosters Waterfront Restaurant
Hogans Pub
The Drinky Box
Brock's Smirking Goat
Blue Lantern Coffee House & Wine Bar
Hops & Vine
Riverport Brewing
Wine Tasting & Happy Hour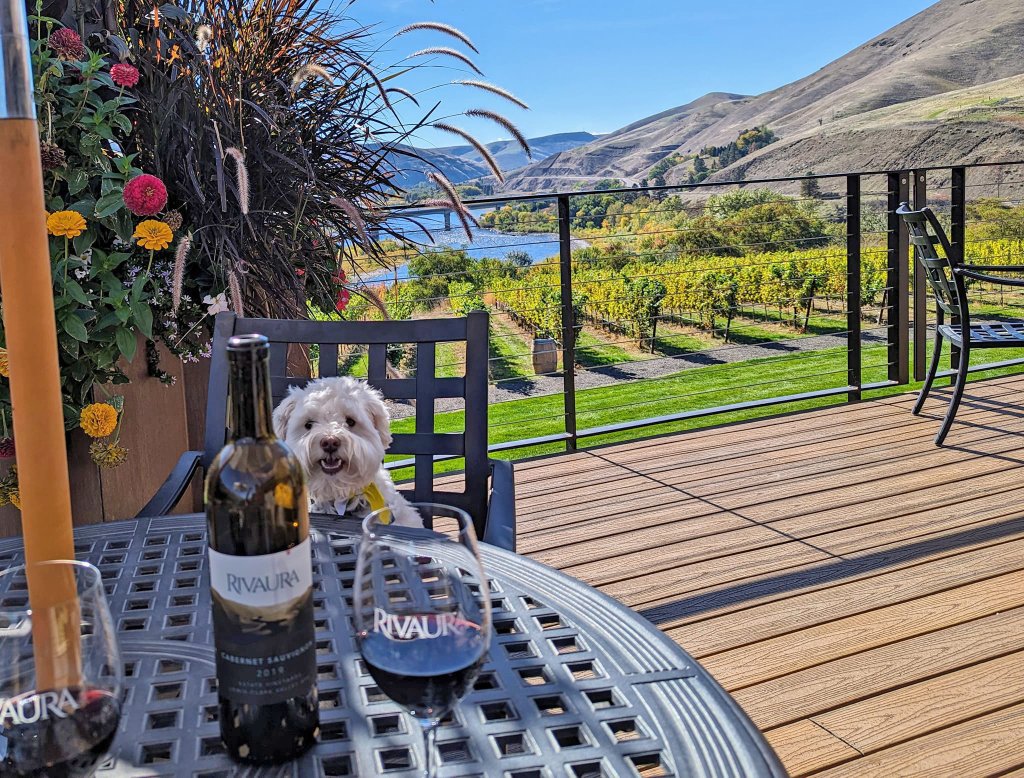 Wine tasting in the Lewis Clark Valley is always an enjoyable experience but it's even more fun to have your best friend by your side. Many of our wine tasting rooms are also located in their vineyard with space for you to taste outside with your well-behaved pup. Water bowls are usually available for your pup to sip right alongside you.
Two Bad Labs Vineyard was founded on their love for wine and animals. At one time, they had five Labrador Retrievers and anyone who knows labs also knows that mischief isn't far behind. Thus, Two Bad Labs was born. Bring your leashed, well behaved fur baby with you and raise a glass to our four-legged friends.
The winemaker at Parejas Cellars is a dog lover and allows well behaved fur friends and their humans to visit his establishment in downtown Clarkston. Make a reservation Thursday/Friday/Saturday and enjoy wine and live music. Appetizers are available for purchase but you're also welcome to bring your own picnic or order from one of the local restaurants. Craft beer is also available.
Pet Friendly Wineries & Patios
Basalt Cellars
Clearwater Canyon Cellars
Lindsay Creek Vineyards
Parejas Cellars
Rivaura
Two Bad Labs Vineyard & Winery
Dog Friendly Walks & Hikes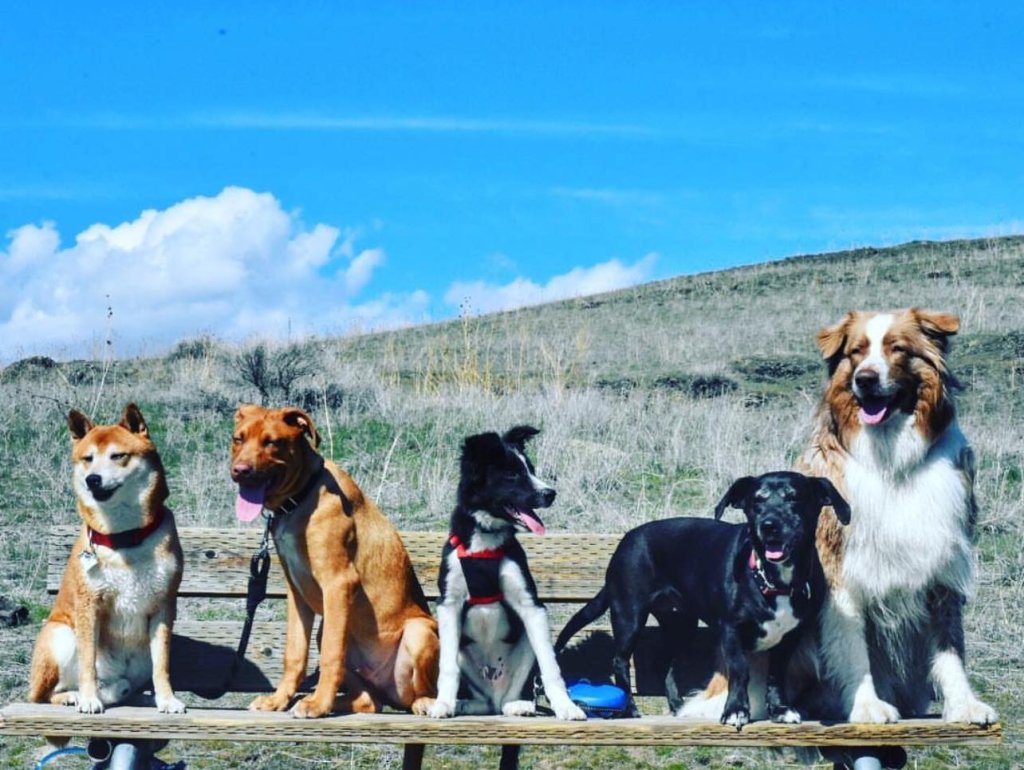 Hells Gate State Park & US Army Corps of Engineers Habitat Management Unit
The area beyond Hells Gate State Park is the perfect place to hike with your pup spring, fall, and winter. Trails are a combination of gravel and dirt with a variety of levels of difficulty. A moderately challenging 6.2-mile loop begins at the southern end of the park and follows trails like the "The Rollers" and "Devil's Slide" giving you a hint of the 800' feet gain in elevation. If you access the trails from the gravel parking lot just off Tammany Creek Road, you can do an easier jaunt to Charlie's Peak where you'll find a bench atop a scenic overlook with views into Hells Canyon. Dogs must be leashed. This is a "pack it in – pack it out" area so please carry doggie bags with you and dispose in a trash can in the parking lot. If you and your dog would prefer to evade rattlesnakes, avoid this area when the temperatures are hot.
Clearwater & Snake River National Recreation Trail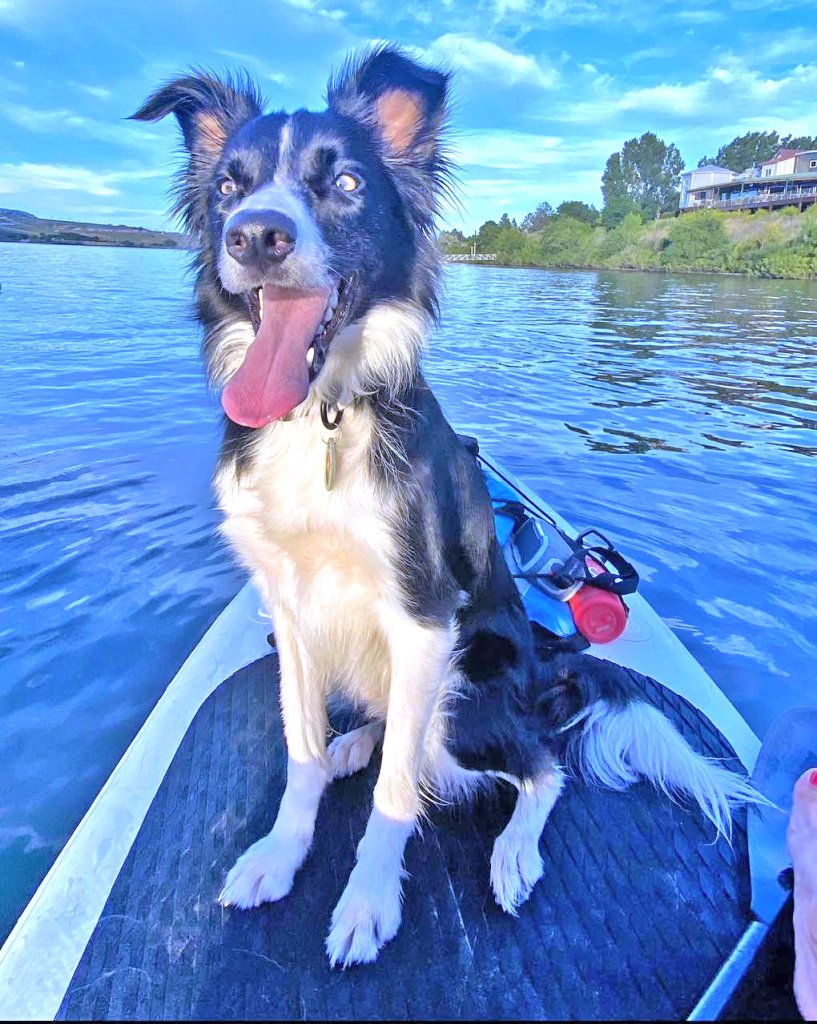 If your dog loves the water (or even if they don't), there are more than 20 miles of trails connecting parks, historical sies, and natural attractions along the Clearwater and Snake rivers. The paved pathways are perfect for logging miles with your dog with many easy accesses to the river for playing and cooling off. The Clarkston side of the trail is tree-lined and generally shadier for staying cool when the temperatures are warm. Dogs must be leashed.
Modie Park
This park is an oasis in the middle of Lewiston! It's a short loop but fun to wander with your pup. There's a beautiful butterfly garden, a grove of stately trees planted in a circle, wetland ponds, and historic stone pillars among occasional benches and picnic tables. A small parking lot is located next to the Idaho State Veterans Home at the end of 21st Ave in Lewiston. Dogs must be leashed.
Wawawai County Park
Follow the Snake River west and north of Clarkston along Wawawai Road towards Lower Granite Dam about 30 miles, and you'll reach this riverside park with a 1-mile loop interpretive hiking trail. You'll get views of the river and unique rock formations, wildflowers, and birds. There are picnic tables, a boat ramp, and restrooms available. Dogs must be leashed.
Kamiak Butte
This forested area rises out of the rolling Palouse farmland 45 miles north of Lewiston. The 3.5-mile Pine Ridge loop takes you to the top of the butte with amazing views of the patchwork of green and yellow fields. A picnic area at the parking lot is the perfect place to for you and your fur babies to take a break and fuel up after your hike. Dogs must be leashed.
Elk Creek Falls Recreation Area
This is a fun day trip from the Lewis Clark Valley. About 70 miles north near the town of Elk River is Elk Creek Falls Recreation Area, home of Idaho's tallest waterfall. Three separate waterfalls more than 140 feet flow through a beautiful canyon ending in a refreshing pool of water that flows into Elk Creek. It's generally shady and quiet in this forested area. The 2.6-mile loop is moderately challenging but well worth the trip. Dogs must be leashed.
Fields Spring State Park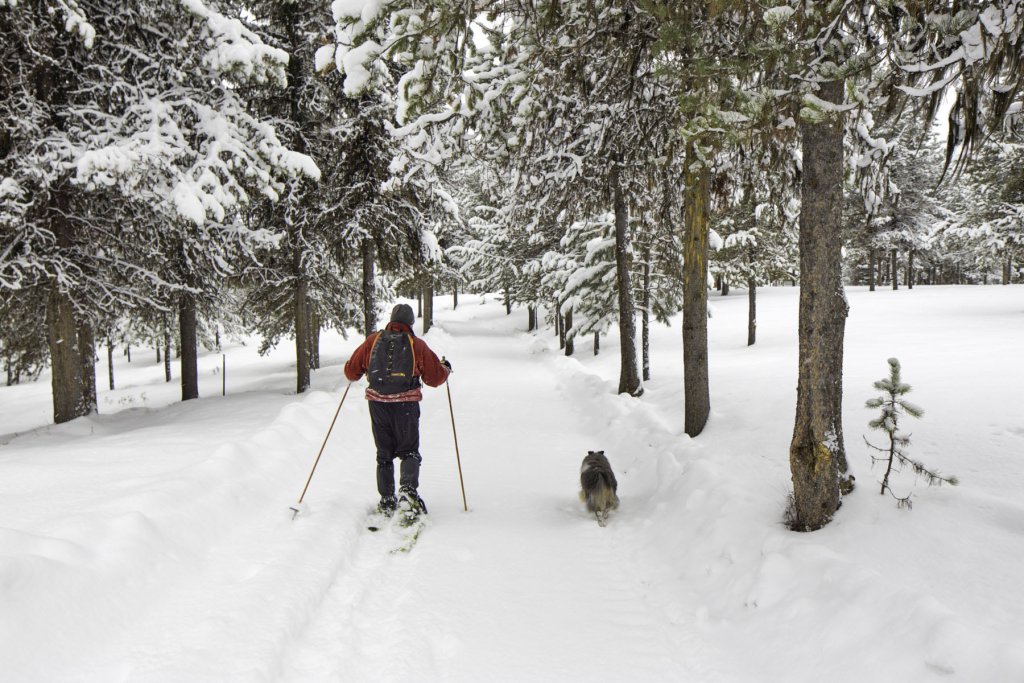 You and your four-legged friends will be wowed by the spectacular scenery at this state park near Anatone, just 30 miles south of Clarkston. The 826-acres of forest features miles of hiking and biking trails. In the winter these trails turn into the perfect snowshoe and cross-country ski areas. A Discover Pass is required. Annual pass is $30 or a one-day pass is $10. Dogs must be leashed.
Dog Parks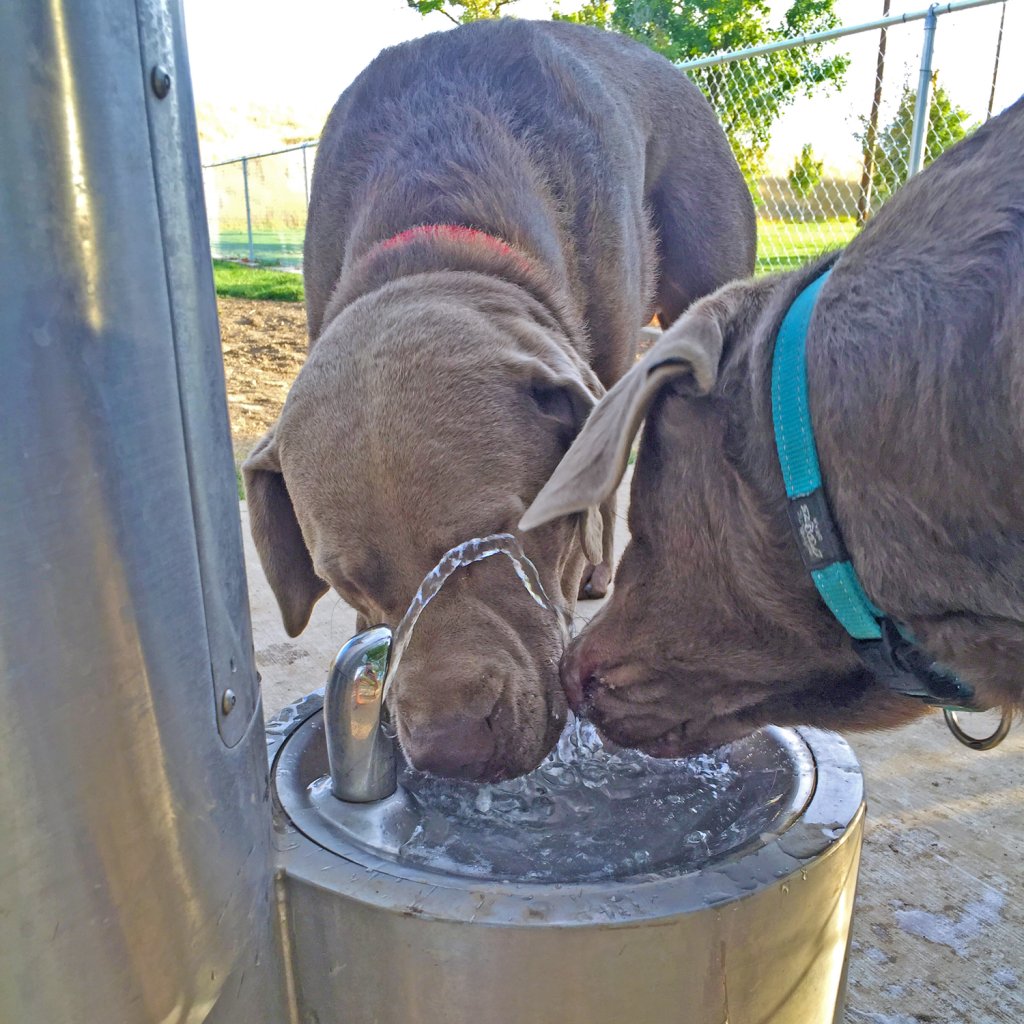 There are several designated and "sort of" designated dog parks in the valley.
The City of Lewiston operates the lovely 1.8-acre Penny's Memorial Dog Park. This well-kept park has two separate areas, one for small dogs and another for the big dogs. Nice shade trees and a water fountain provide relief for both humans and animals. 2514 3rd Ave N, Lewiston
Eagle Scout Dog park is located near the future location of the Lewis Clark Animal Shelter just off 6th St at the corner of Southport Ave and Airpointe Place. Amenities are fairly limited here but there's lots of room to run.
Pippin's Island is a fun place to go next to the Snake River. Access is just north of the Hells Canyon at 2520 Riverside Drive in Clarkston.
Dog Boarding / Doggy Day Care & Spa Services
If you happen to go on a non-pet friendly excursion and need someplace for Fido to stay, the Fur Family Cinema offers love, exercise, and room to play. Be sure to check with them on the 2-hour Meet and Greet requirement if you are only looking for daycare and not boarding. 3323 10th St, Lewiston, ID – 208.413.9647
Most area veterinary clinics offer overnight boarding.
We hope you and your canine companion enjoy these tips and your romp in the Lewis Clark Valley. Share your fur friendly adventure with us on social media and tag #LCVfurfriendlyvacay