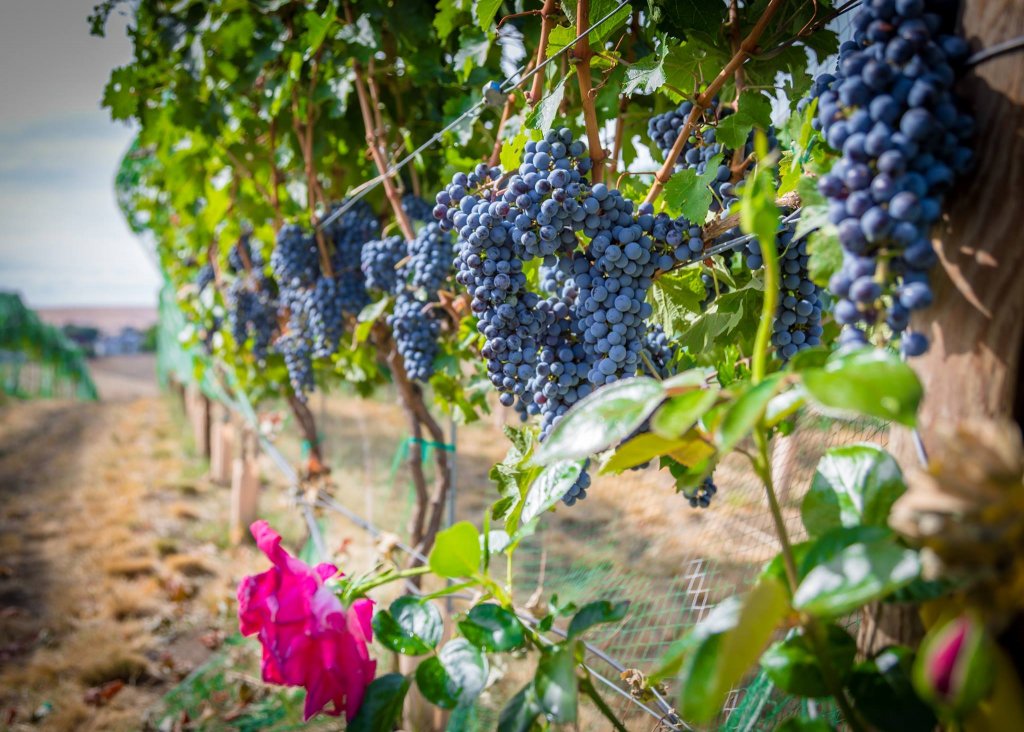 We don't mind if you wine here in the Lewis-Clark Valley – We encourage it!
So, you've found your way to our little slice of heaven? No, it wasn't easy – but we promise it was worth it! Not only is the Lewis-Clark Valley a mecca for outdoor enthusiasts of all types, it is the Inland Pacific Northwest's best kept wine secret!
The Lewis-Clark Valley AVA is home to 16 vineyards growing nearly 100 acres of approximately 20 unique varietals of grapes.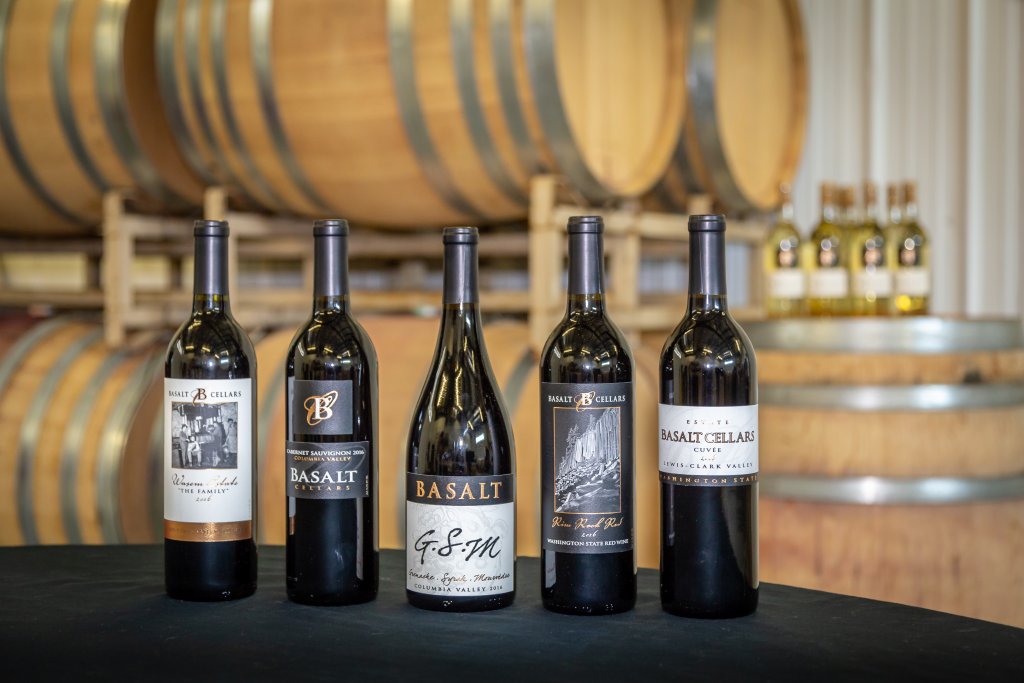 One of the Lewis-Clark Valley's first wineries – Basalt Cellars– was started by pharmacist Rick Wasem and his business partner Lynn DeVleming in 2003. It wasn't long before the accolades started pouring in for the new winery.
The label uses grapes grown at Wasem Estates and other Washington state vineyards to make their award-winning wines. Since 2003, they have gone on to win 10 Platinums, 16 Double Golds, 27 Golds and have eight 90-plus rated wines.
The tasting room is located at 906 Port Drive in Clarkston, Washington, and is open from Noon to 5:30 p.m. Monday-Saturday, or by appointment. You can also visit them online Basalt Cellars and find them on Facebook and Twitter.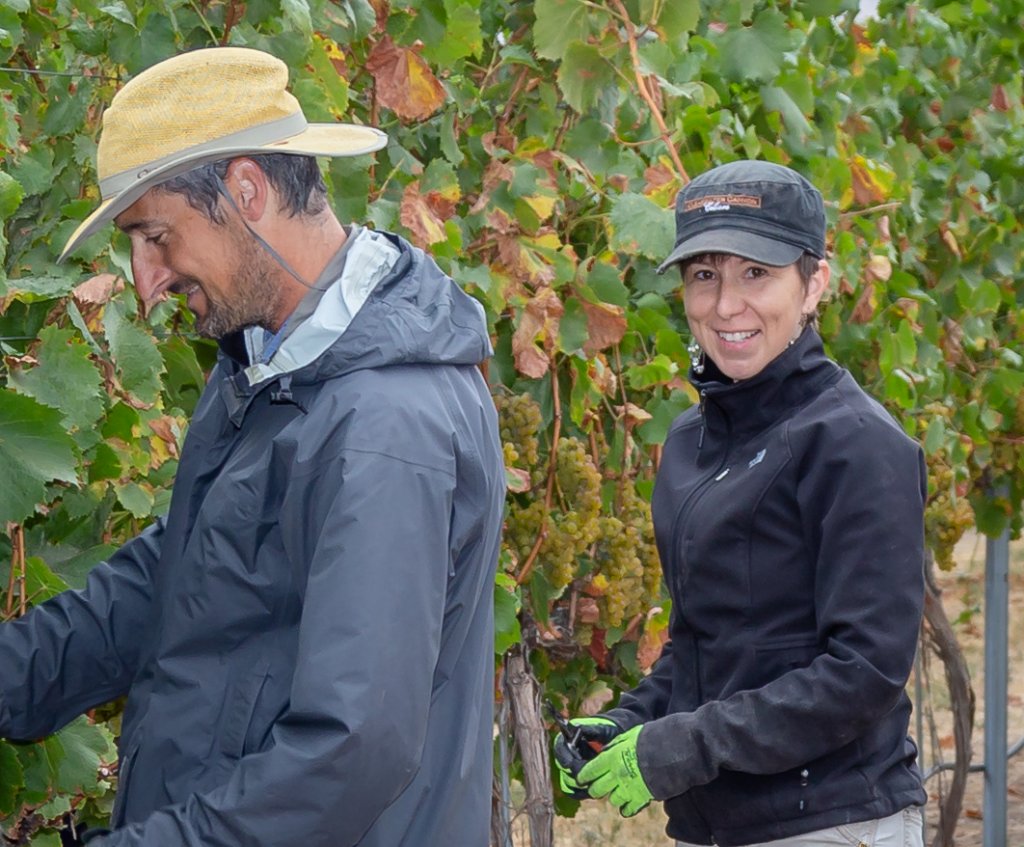 Another budding winery began in 2003 in the Lewis-Clark Valley when Coco and Karl Umiker started Clearwater Canyon Cellars. Coco earned a doctorate in wine microbiology and Karl a master's degree in soils. The couple, fourth-generation farmers, planted their first vines on the family's long-held cropland – honoring the history of the Lewis-Clark Valley and their families by employing sustainable practices throughout the process of making their wines. Clearwater Canyon primarily uses grapes grown at Umiker Vineyard in Lewiston, as well as other vineyards. The vineyard is located on a certified Idaho Century Farm that has been in Coco's family since 1916.
Coco was the first head female and Idaho winemaker to make Wine Press Northwest's King of Platinum list. This elite list of wines is comprised of only wines that have received Gold or Double Gold in the previous calendar year. Clearwater Canyon has also won acclaim at The Cascadia International Wine Competition, and in 2015 was named Idaho Winery of the Year. Coco has won 12 Platinums for her wines.
Clearwater Canyon's tasting room is at the Umiker Vineyard, 3143 10th Street in Lewiston, Idaho, and is open from Noon to 5 p.m. Fridays and Saturdays, or by appointment. You can also visit them online Clearwater Canyon Cellars and find them on Facebook and Twitter.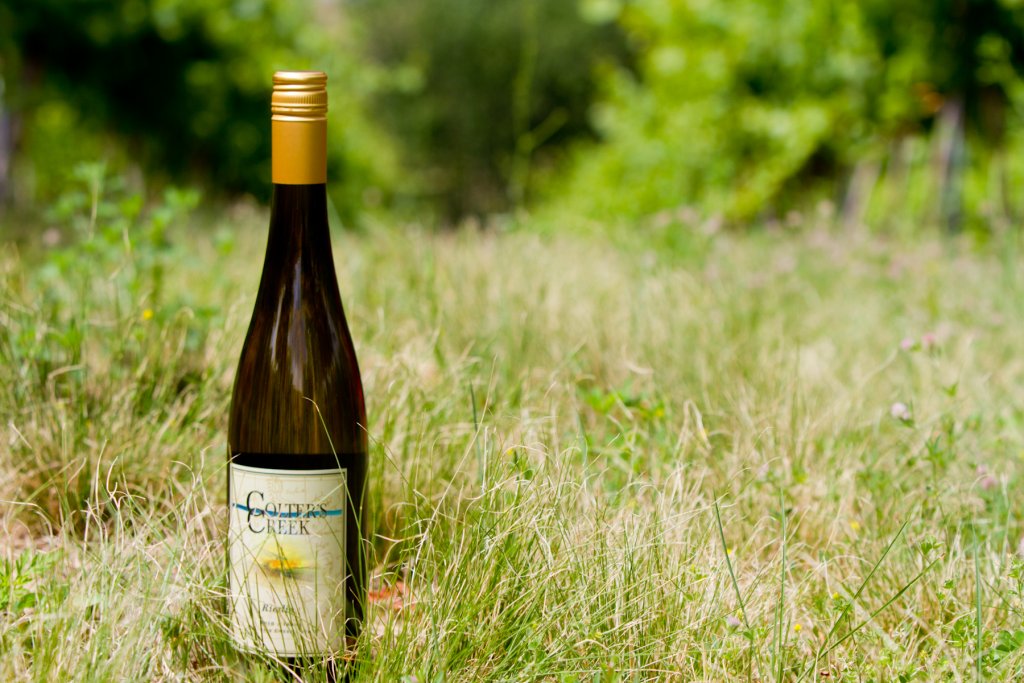 A few years later, in 2007, another female head winemaker came on the scene when Melissa Sanborn and her husband Mike Pearson purchased an abandoned vineyard in Juliaetta, Idaho. Colter's Creek Estate Vineyards rose from the ashes to become one of the area's most acclaimed wineries.
Melissa uses her wine chemistry studies from Washington State University's graduate program to help her make the multi-award-winning wines. Mike, a University of Idaho graduate and self-proclaimed engineering geek, uses his knowledge to create machinery for the winery and vineyard, as well as magnificent dishes to serve with their wines at the estate's Juliaetta restaurant and tasting room.
With three Double Gold and 11 Gold awards, Melissa has made a name for herself in the wine industry as a premier wine maker. The label has earned 90-plus ratings and mentions from such publications as Wine Enthusiast, Tastings.com, Wine Press Northwest and the Seattle Times.
Colter's Creek Estate's Vineyard is located in Juliaetta and has two tasting rooms: The tasting room and restaurant is located at 308 Main Street in Juliaetta; its wine tasting hours are 4-5 p.m. Thursday and Noon to 5 p.m. Friday-Sunday; the restaurant is open 4-9 p.m. Thursday, Noon to 9 p.m. Friday and Saturday, and Noon to 5 p.m. Sunday. The Moscow, Idaho, tasting room is located at 215 S. Main Street and is open Noon to 7 p.m. Tuesday-Thursday and Noon to 8 p.m. Friday and Saturday. You can also visit them online Colter's Creek and find them on Facebook, Instagram and Twitter.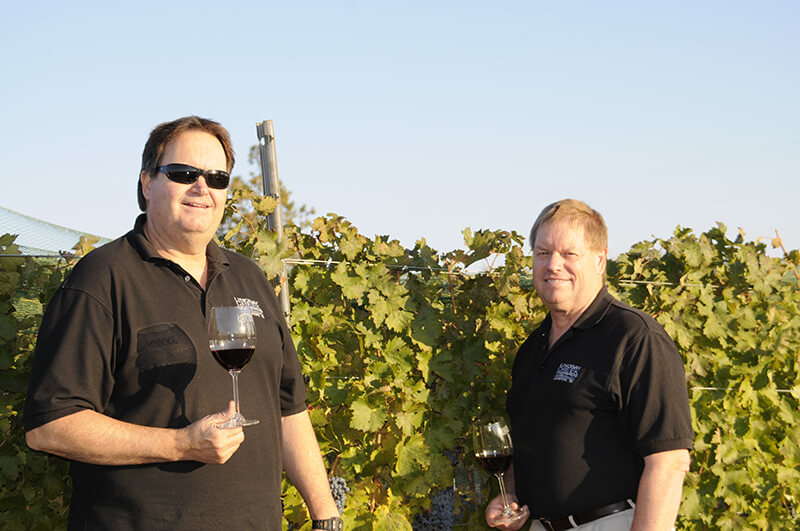 A second winery also took root in 2007, when two brothers, Art and Doug McIntosh, decided to join the ranks of Northwest winemakers. Lindsay Creek Vineyard planted their first vines on the family farm. As fourth-generation farmers they understood the unique soil that was created from the Missoula flood and realized it was the perfect composition for grapes. The brothers had farming and agriculture in their blood but knew to make great wines it would take more. So, they each received certificates from Washington State University – Art in enology and Doug in viticulture.
In 2013, the family owned business procured the funding to open what is one of the most spectacular tasting rooms of the region. The winery has become the go-to event venue as well as wine drinking location.
The brothers were awarded the Idaho Governor's Award for Marketing Enovation in 2017 for the work they have done with not only their winery but their whole wheat organic products. The wine has also been recognized by the likes of the San Francisco Chronicle International Wine Competition with a Best of Class for its Merlot. The label has also won medals at the Idaho Wine Competition, Finger Lakes International Wine Competition and the Toast of the Coast Wine Competition in San Diego, among others.
The tasting room is located at 3107 Powers Avenue in Lewiston, Idaho, and is open from 1-9 p.m. Friday and Saturday, or by appointment. You can also visit them online Lindsay Creek Vineyards and find them on Facebook, and Instagram.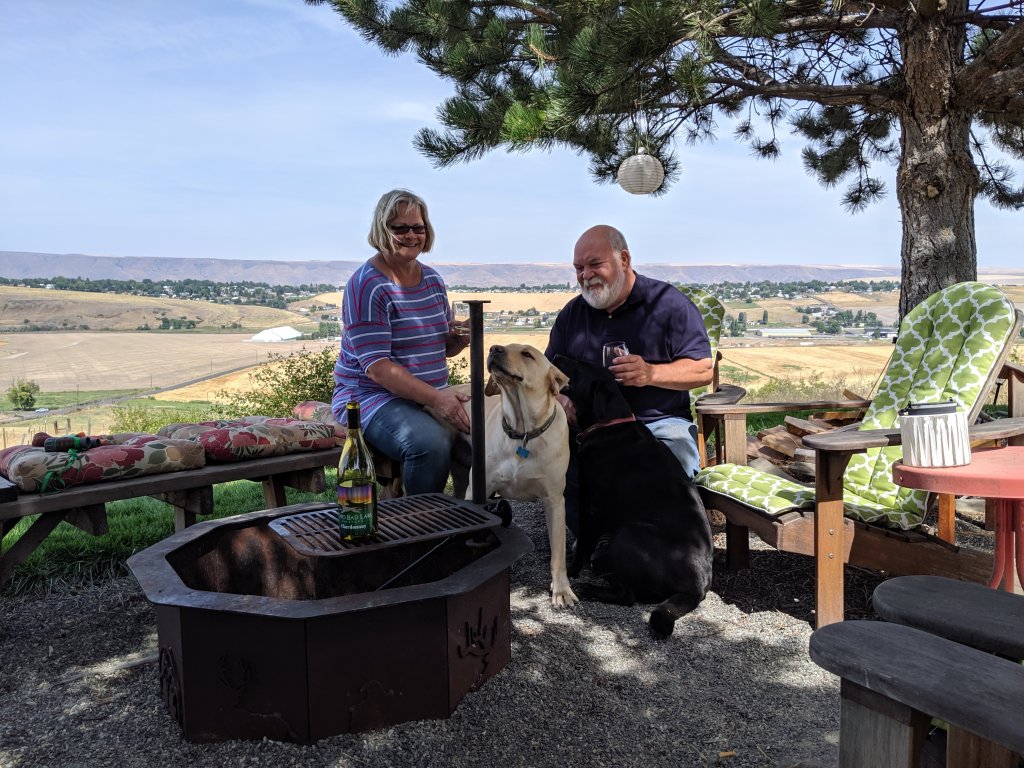 In 2012, the Lewis-Clark Valley saw the first vines of the Two Bad Labs Vineyard planted and they have quickly become known for their quality wines. Paul and Heidi Sullivan moved to the valley from Oregon and jumped at the chance when the opportunity arose to start a vineyard. Paul apprenticed with an Oregon winemaker he had known for several years after that winemaker encouraged him to make wine. The Sullivan's initial intentions were to just grow grapes for other wineries, but the couple are happy with the way things have turned out. They enjoy making the small selection of wines they offer and have seen success at the few competitions they've sent wine to, even winning a Double Gold at the Cascadia International Wine Competition.
And, although they are a smaller winery than those that opened before, Two Bad Labs has become a local favorite. Both say they enjoy the boutique style winery they currently have. They savor the camaraderie of those who stop by for tastings and believe a lot of that would be lost if they grow the winery bigger.
Currently, Two Bad Labs offers tastings at the vineyard by appointment only, but is quick to welcome anyone who stops by or calls for an appointment. Just be sure to watch out for one of the "bad" labs running around the winery. You can schedule an appointment by calling 208.553.8835 or emailing them at [email protected].
You can find them online Two Bad Labs and on Facebook.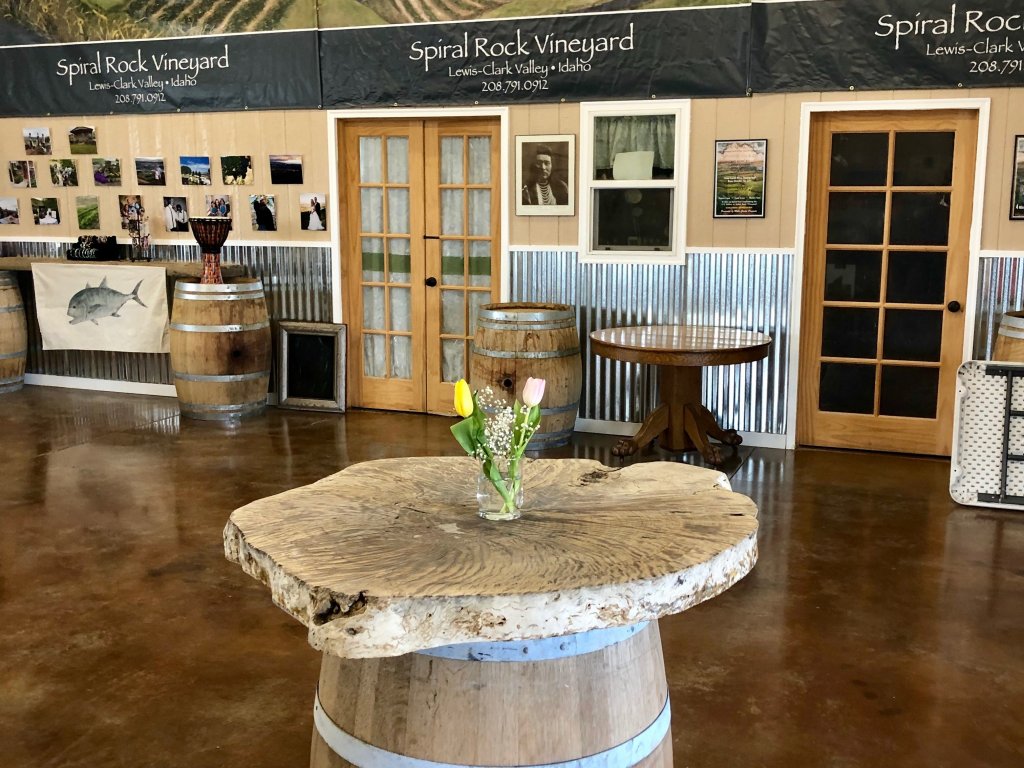 Just 4 miles up the Old Spiral Highway a couple and some friends planted its first vines in 2014, joining the growing number of vineyards and wineries in the area. Spiral Rock Vineyard began with 1,100 vines of Riesling grapes planted on just one acre. The following year they planted a second acre of Riesling and Cabernet Sauvingnon.
They bottled their first 500 bottles in 2016 and gave those bottles to friends and family with one simple request - to give them an honest opinion of the wine. A year later they harvested enough grapes to bottle 100 cases of their Signature Dry Riesling. And thus another great winery was born in the Lewis Clark Valley.
It's all thanks to the dreams of Stuart and Becky Davis, and Shane and Lori Hyde. Stuart's fascination with the industry's local history and wine making, coupled with the fact that he and Becky owned the perfect property for a beautiful winery laid the groundwork for a terrific partnership with Shane and Lori.
The two couples have worked together to create, not only, amazing wines, but a stupendous tasting room and event space with views of the valley that can be summed up in one word - Picturesque! The tasting is open to group tours year round. Schedule your tour by calling 208.791.0912 or by emailing them at [email protected]. You can find them online Spiral Rock Vineyard, as well as Facebook and Instagram.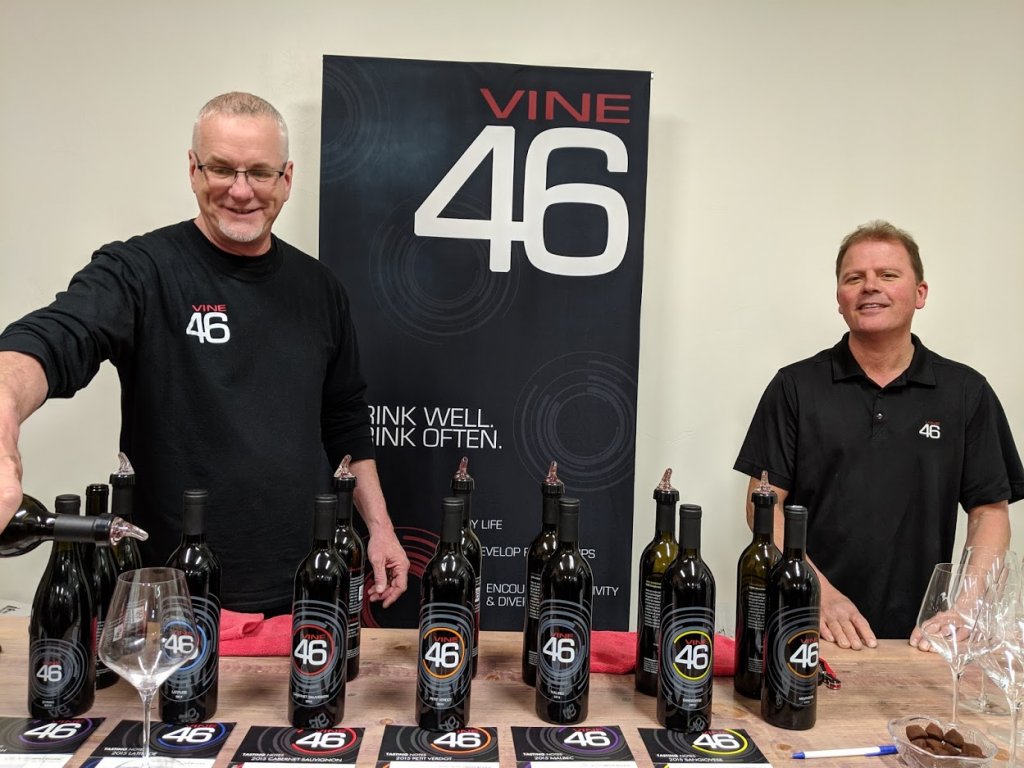 This boutique winery opened in 2016 and makes a variety of red wines. A diverse group of friends with a love for good wine came together with one goal – create something they would all want to drink and share it with the world!
Vine 46 has two lead winemakers, Jeff Ebel, who has spent most of his life in the construction industry and is now building bold wines, and Mike Yates, a scientist who has great respect for the traditions that go into making great wines.
This duo, in a short time, has made a name for themselves in the industry. Their wines are winning awards and being noticed – they earned an honorable mention in the Winery of Distinction category in 2018 at the Woodinville, Washington, Competition. The label has already won Gold and Double Gold awards for some of its wines and has been reviewed on Northwest Wine Night and by Great Northwest Wine.
The winemakers are working on opening a permanent tasting room on the corner of New Sixth and F streets, behind where their current tasting room is located, 800 Main Street Suite 6, in Newberry Square, Lewiston, Idaho. Tasting room hours are 10 a.m. to 7 p.m. Friday and Saturday. You can visit them online Vine 46. And find them on Facebook, Twitter and Instagram.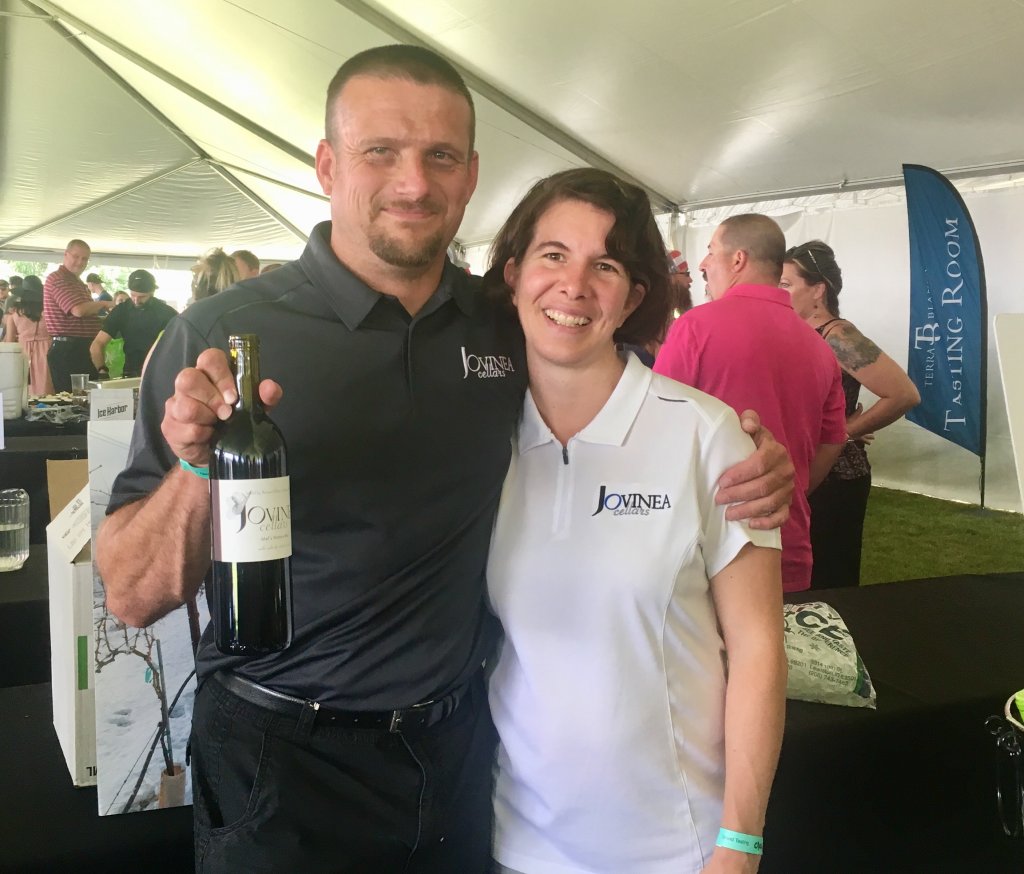 It took eight years of planning – but Lisa and Mike Grigg finally saw their dream come true in 2018. They opened their long-anticipated winery, Jovinea Cellars in the Clearwater Canyon of Idaho at Lenore. This family owned and operated winery has even the Grigg's children participating in the winemaking process – at least their eldest daughter, who helps with corking.
What began as a fun pastime for the couple early in their relationship grew into a dream of joining the ranks of Pacific Northwest winemakers. Lisa attended Eastern Washington University where she studied finance and economics, and Mike has a background in culinary studies. Their love of tasting rooms quickly grew into an overall admiration for the art of winemaking. It wasn't long before they were volunteering to help winemakers in the Olympia, Washington, area.
Most of the wine they make is by trial and error, and learning from the trials and errors of other winemakers. The couple share the winemaking duties with Lisa choosing the grapes and following the process through fermentation. Mike picks up from there, choosing barrels and charting the wine's aging process. Together, in just a short time, they have created some wonderful wines winning some Silver and Bronze awards. They recently sent some wines off to the Idaho Wine Competition that are being judged the week of Aug. 19. The label has also been featured by GreatNorthwestWine.com.
They will have a grand opening for their new tasting room in downtown Lewiston's Morgan's Alley Oct. 2-5. But they want to keep their wine label at boutique level with the family (including the couple's two daughters) doing the bulk of the work themselves. Until the opening of the tasting room you can find their wines at regional retail locations: Genesee Food Center, CHS Primeland Country Store, Blue Lantern Coffee House, Mystic Café and Smokes and Suds. Tasting room hours will be 11 a.m. to 6 p.m. Monday-Saturday.
You can find them online Jovinea, and on Facebook and Instagram.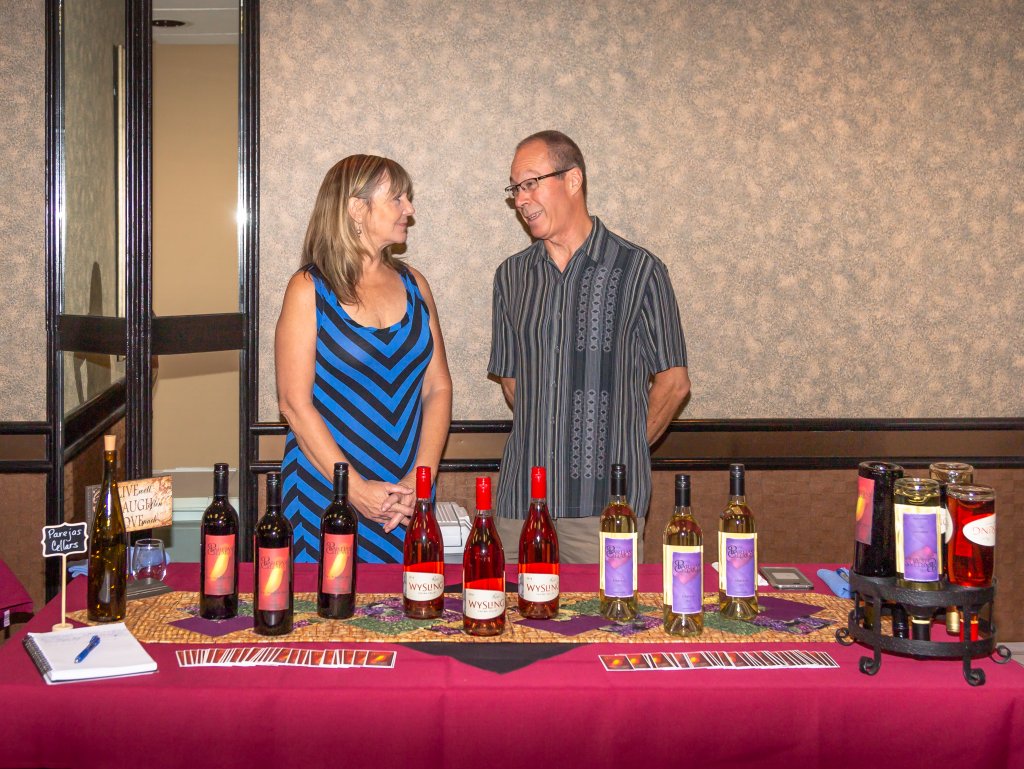 Mark Wysling started Parejas Cellars in Yakima, Washington, in 2007, after having discovered a natural talent for the winemaking process. He began winemaking as a hobby in 1987 and today is one of the instructors at Yakima Valley Vintners. The Parejas label focuses on Spanish varietals, but Mark focuses on other wines with the winery's Wysling label. His goal is to create fun, quality wines that friends can enjoy sharing over a meal.
In 2018, Parejas opened a tasting room in Clarkston, Washington, that is managed by Rebecca Doolittle. Rebecca has created a fun environment to enjoy Mark's creations while listening to music, participating in a sip and paint or just to appreciate a great glass of wine over conversations with friends. Staying true to Mark's goal, this tasting room is a gathering place to be enjoyed.
Parejas is no stranger to awards – the label has brought home awards from some of the biggest wine competitions such as the San Francisco Chronicle International Wine Competition where the winery has received medals in consecutive years.
The Clarkston tasting room is located at 903 Sixth Street with summer hours from 3-9 p.m. Thursday & Friday and noon to 9 p.m. Saturday, or by appointment. Hours for the rest of the year can be found online Parejas Cellars, and on Facebook, Twitter, and Instagram.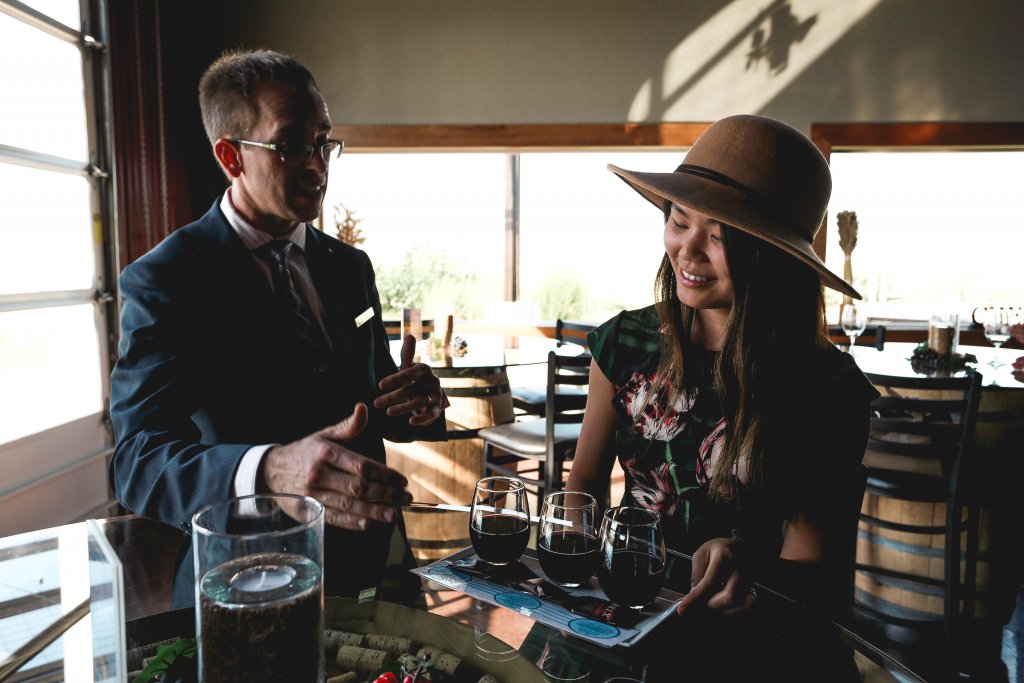 The best way to experience these and the other great wineries in the area is with a wine tour. Twisted Vine, owned and operated by Clint Hoiland, fills that role. He will take visitors, not only, to the vineyards and wineries in the Lewis-Clark region, but back in time to the valley's first vines, with his wealth of knowledge of the area's rich wine history.
Clint has built relationships with regional wine owners to ensure his tours have the personal touch he himself would expect on any type of tour. He has a vast understanding of the industry as a whole, as well as the local grapes and labels he shares with his guests.
Book your tour online Twisted Vine Wine Tours and on Facebook.
UPDATE:
The 2019 Idaho Wine Competition results are in - And the "Emerging Lewis Clark Valley" wineries brought home more medals!
Clearwater Canyon Cellars - Best of Class for their 2016 Louis Delsol Cabernet Sauvignon, 1 Gold and 7 Silver
Colter's Creek Winery - 2 Gold
Two Bad Labs - 2 Silver
Vine 46 - 1 Silver, 3 Bronze
Jovinea - 1 Bronze
Congrats to all of our winemakers!
###
Article by Peggy J. Gary
Photos by Brad Stinson, Peggy Gary and contributed by others.